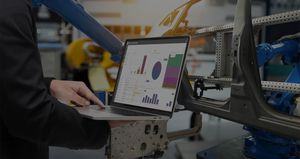 BUILD YOUR OWN SMART FACTORY
The modern industrial system 4.0 is based on the ability to make your plants, production systems, interconnected and capable of providing critical information. Capabilities today are also applicable to moving vehicles, objects, and devices of all kinds. Find out how to transform your industrial model thanks to sensors, complete data, and artificial intelligence.
Become Industry 4.0
The world of manufacturing is inevitably changing, and it does so very quickly. After an industrial phase marked by a high-volume series production with a low product mix, industries now have to face the need to differentiate products by expanding the range, and the growing expectations of consumers, who are increasingly oriented to order customized products. Manufacturers need to act quickly to convert their plants into highly connected, automated, and reconfigurable systems based on business needs. In addition, large industries, due to interruptions and accidents, still suffer up to 800 hours of unscheduled downtime per year, 30% of which are unforeseen, while the skilled workforce is aging, leaving 2 million jobs at risk of not being employed, according to a study by the Deloitte & Manufacturing Institute. 
Fueled by the development of IoT technologies, a new type of factory is emerging, connected to the cloud, based on data, and with an open architecture. It is a smart factory, characterized by greater machine automation and the use of data as a transformative force for business. 
The smart factory, better known as Smart Factory or Industry 4.0, is experiencing a phase of development thanks to edge computing and intelligent sensors. Edge computing allows industries to collect sensor data and process it in real-time at the manufacturing site, reducing latency time and improving forecasts. 
Smart factories allow you to configure production capacity to run smaller production quantities while maintaining the same efficiency as high-volume inputs. Using IoT connectivity and data, control systems can achieve the real-time flexibility needed to adapt production without human interaction or process disruption. They can automatically account for variations in the quality, quantity, and properties of raw materials. Production lines can be quickly optimized for a single design or derivative products. 
The factory's real-time control systems can collect and analyze historical operational data to predict future implications and plan maintenance, protecting investments. 
Connectivity and monitoring of IoT devices can also promote sustainability through the analysis of the machinery life cycle and procurement optimization, storage, logistics, and production processes. Finally, access to data and analysis in real-time introduces greater visibility and transparency, encouraging more and more ethical behavior and improving the reputation of the company. 
Powua is the solution that allows you to implement the smart factory, enabling the measurement and monitoring of critical infrastructures and applying AI to big data from devices, machines or plants, to optimize production processes and prevent risks, accidents, and alarms. Users can view 3D digital representations ("digital twins") of machinery or plants to analyze process performance, even remotely.
Benefits
AUTOMATION
The smart factory uses data and IoT connectivity to easily regulate and control all aspects of operations in real-time, with near-total automation, in production, and the supply chain.
INTERCONNECTION
The smart factory functions as a hub of interconnected systems, each with a high degree of flexibility, efficiency, and autonomy, which emphasize the cooperation activities between humans, machines, and management systems throughout the production ecosystem.
FLEXIBILITY
Autonomous and self-adaptable, the smart factory allows manufacturers to scale their IoT infrastructure to support changing market trends and optimize resource allocation.
DATA-DRIVEN APPROACH
IoT sensors and advanced data analysis with the support of AI are the basis for proactive and conscious strategic choices, regarding the maintenance and innovation of industrial plants.
Some of our customers: