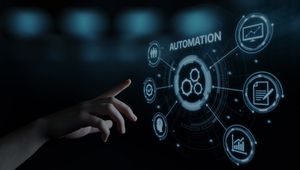 EMPOWER YOUR ICT NETWORKS AND DEVICES WITH INTELLIGENCE
Find out how it is possible to create automatic systems for scaling, controlling, and distributing ICT resources and devices.
Discover the power of self-service IT
According to a study by Gartner, by 2024 organizations will reduce operating costs by 30% by applying automation technologies to IT processes. This figure is likely to accelerate in response due to the global pandemic period. 
IT teams are constantly busy delivering infrastructure, applications, and databases to their internal users or external customers. In a future scenario, people, whose number is rapidly growing, who will work remotely will surely put a strain on the IT of small and large companies, it is very simple to predict and imagine the wave of tickets and support requests that an IT manager will have to face it. Not to mention the time it takes to solve each problem. The IT teams across companies are adjusting to this situation, maximizing their productivity by automating common tasks and providing end-users with on-demand resources is critically important. 
Powua, our IT orchestration platform, allows companies to activate, stop and scale applications and infrastructures according to the requirements of the various offices and the roles and permissions of collaborators, in self-service mode. In this way, the IT office can lift people from repetitive technical assignments and greatly reduce the wait for specialized technical assistance. Transforming IT operations into an on-demand services marketplace means instantly transforming complex provisioning tickets into simple and immediate requests with one click. 
Powua integrates with popular ticketing systems to simplify the end-to-end provisioning and support process. 
Powua is also enhanced with artificial intelligence algorithms (AIOps - Artificial intelligence for IT operations), which allow to optimize consumption, predict overloads, self-configure and scale IT services for each office/end-user, and distribute IT resources efficiently and automatically between the main public cloud providers (AWS, Azure, VmWare).
Benefits
CAPACITY PLANNING
With the use of AI, the workload can be mapped to the correct configuration of servers and virtual machines.
SCALABILITY
With AI algorithms, it becomes possible for the system to predict the scaling or evolution to which the infrastructure will automatically adjust based on historical data.
STORAGE AND BACKUP
Storage resources are continuously monitored for optimal usage and performance. With predictive analytics, storage capacity and automatic backup schedule are automatically configured by adding new volumes proactively.
ANOMALY DETECTION
Advanced machine learning algorithms are used to effectively determine outliers and identify problems and potential service outages in real-time.
BIG DATA ANALYTICS
Aggregation of IT data for historical analysis and insights in real-time, without the occurrence of "data bottleneck".
SECURITY
With the use of machine learning algorithms and heuristics, anomalies and security threats can be detected and avoided.
Some of our customers: