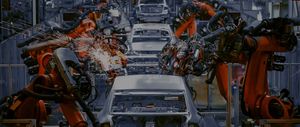 PREVENT RISKS, FAILURES, AND ACCIDENTS
Find out how thanks to the most advanced data collection and intelligent analysis systems you can predict failures and intervene before they occur, how to create a central monitoring point for your maintenance team, how to prevent any stoppages and accidents avoiding risks for people and costs for downtime or spare parts.
Predictive Maintenance in Industry 4.0
Predictive maintenance is one of the main benefits deriving from Industry 4.0. This is an intelligent type of maintenance, capable of estimating the residual life time of machinery and components to improve the reliability of the entire system. This happens thanks to the continuous data analysis created by the machinery which is connected to a network. 
There are two main advantages that can be ensured by the correct implementation of a predictive maintenance strategy: predicting when failures may occur and being able to schedule timely interventions, thus reducing costly downtime and plant shutdowns as well as spare parts costs. 
In the long term, companies can count on an extension of the useful life cycle of their machines, also reducing the costs associated with spare parts in the warehouse. Therefore, companies that are able to consistently apply this type of strategy can count on evident savings, in terms of maintenance costs and a significant productivity gain. 
From an infrastructural point of view, setting up correct Predictive Maintenance is anything but simple and obvious, considering the heterogeneity of machinery and solutions present in real industrial contexts. Powua – the Avantune platform of IoT Orchestration, allows one to acquire data in real time from heterogeneous devices, interfacing PLC (Programmable Logic Controller), sensors and intelligent machinery, and can be connected to external data sources such as SCADA, ERP, MES and CMMS.
Features
Il 100% dell'affidabilità dell'asset produttivo è raggiungibile attraverso: 

✓ Il monitoraggio delle risorse 
✓ La misurazione delle performance 
✓ Analisi dei dati ottenuti 
✓ Condivisione delle informazioni con gli operatori 

Powua permette la gestione ed il controllo di dispositivi e macchinari in modalità self-service. Grazie ai moduli di metering e monitoring, e all'abilitazione di sensori IoT è possibile ricevere in unica dashboard tutte le misurazioni, impostare soglie di allarme e ricevere i segnali di incidenti. Grazie ai data insights generati dall'intelligenza artificiale e dagli algoritmi di apprendimento automatico, è possibile infine intervenire rapidamente senza dover sospendere i servizi.
100% of the production reliability assets can be reached through: 

✓ Resource monitoring 
✓ Performance measurement 
✓ Analysis of the data obtained 
✓ Sharing of information with operators 

Powua allows the management and control of devices and machinery in self-service mode.

Thanks to the metering and monitoring modules, and the enabling of IoT sensors, it is possible to receive all measurements in a single dashboard, set alarm thresholds and receive incident signals.

Thanks to the data insights generated by artificial intelligence and machine learning algorithms, it is finally possible to intervene quickly without having to suspend services.
Alert
With the metering / monitoring module it is possible to process and correlate the information detected, to set critical thresholds that activate alerts and interventions, for each machine or component.
Sensors
Smart sensors allow one to carry out diagnostics, to detect significant parameters from the system and represent a powerful tool serving as a failure prevention.
Benefits
CONTROL
Monitor your IoT devices, Smart objects and machinery in real time through monitoring sensors.
MEASURE
Explore and process the usage data of the machines within your production plant. View reports through user-friendly dashboards.
FORECAST
Take advantage of the interactive information generated by artificial intelligence and machine learning algorithms, which will allow you to intervene quickly without having to suspend production.
Some of our customers: